Discounts allow offering more attractive prices for bundles
Discounted bundles
Discounts allow offering more attractive prices for bundles to push your sales further. In many cases, shoppers expect to get a discount when purchasing a bundle, so it's a win-win for both sides - shoppers receive a better deal while the merchant increases the store's revenue.
How do discounts work with bundles?
With PickyStory's app, you can create multiple discounts and apply them to bundles. Discounts can be created on a one-to-one basis with bundles or one-to-many (see attached diagram). PickyStory automatically creates discount codes in your Shopify Admin so the process is seamless and transparent to you as a merchant. The app creates one Shopify discount code for each PickyStory discount and applies it to all products that are linked to the discounted bundles.
PickyStory discounts will also work if a shopper adds several products to the cart that are part of a bundle without adding them directly from the bundle itself. This happens because Shopify's discount code is applied to products and it doesn't distinguish whether the products were added directly to the cart or through a bundle. This doesn't affect the discounts' logic as the same outcome is accomplished - selling combined products for a discounted price.
Discounts' logic flowchart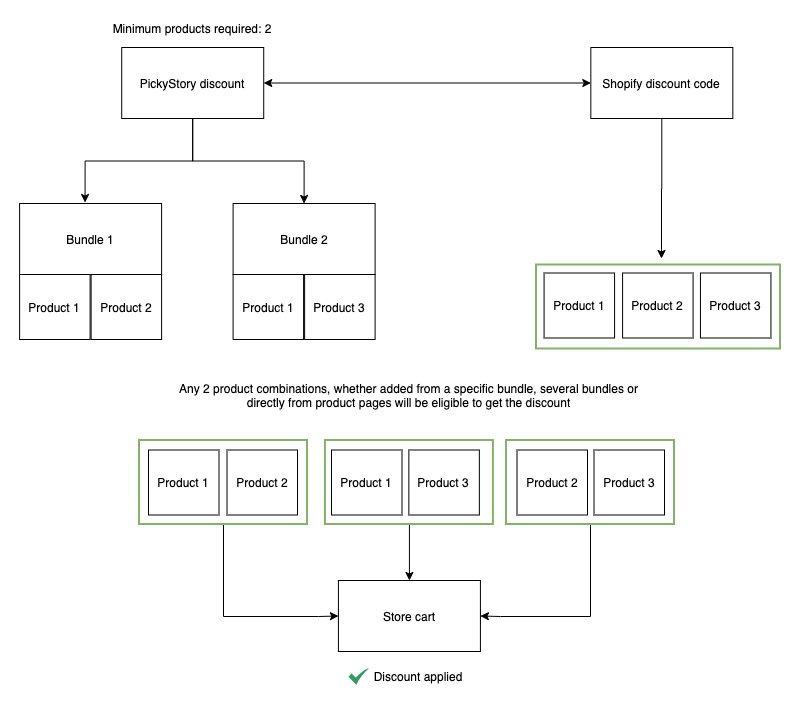 Try PickyStory